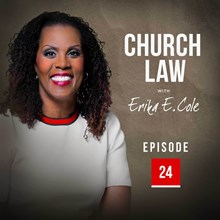 Image: Vasil Nazar
A national survey shows 68 percent of Americans worry about their finances. Pastors are among those sharing such sentiments—in 2015, for instance, a National Association of Evangelicals survey of 4,000 pastors showed that many carry heavy loads of student debt and are unable to save for retirement or emergencies. Many worked second jobs.
In this episode, Erika more closely examines the challenges of financial stress and strain on pastors, and how it can create unhealthy dynamics ultimately affecting the church. Erika's guest, CPA Elaine Sommerville, is the author of a book on church compensation and benefits planning, and together they discuss the ways church leaders need to evaluate the pay and benefits packages they offer.
Erika and Elaine talk about retirement planning. They also take a closer look at bivocational pastors, the differing needs, the challenges, and the ways churches can be fair to their unique situations.
As Erika and Elaine both note, conversations about financial well-being need to happen—and churches need to take the lead to ensure their pastors aren't blindsided later in life.
SHOW NOTES:
Church Compensation, Second Edition, by CPA Elaine Sommerville
"The Financial Health of Pastors," by Lee A. Dean
"Retirement Planning for Pastors and Staff," an on-demand webinar with CPA Elaine Sommerville
Download your FREE copy of The Church Attorney Legal Audit® System document checklist at ErikaCole.com
Questions? We welcome them! Please email Erika Cole at contact@takethenextcall.com. Erika reads each comment and may answer your question in an upcoming episode.
See all episodes of Church Law.
The Church Law podcast is part of Christianity Today's ChurchLawAndTax.com, a not-for-profit publishing ministry.
This content is designed to provide accurate and authoritative information in regard to the subject matter covered. It is sold with the understanding that the publisher is not engaged in rendering legal, accounting, or other professional service. If legal advice or other expert assistance is required, the services of a competent professional person should be sought. "From a Declaration of Principles jointly adopted by a Committee of the American Bar Association and a Committee of Publishers and Associations." Due to the nature of the U.S. legal system, laws and regulations constantly change. The editors encourage readers to carefully search the site for all content related to the topic of interest and consult qualified local counsel to verify the status of specific statutes, laws, regulations, and precedential court holdings.