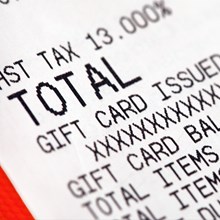 Scammers are now targeting worshipers in a gift card scam, warns the Federal Trade Commission (FTC).
Posing as a pastor or other church leaders (through an email that looks familiar and legitimate), these scammers ask worshipers for gift-card contributions to a good cause. The FTC explains:
The imposter asks you to buy a popular gift card—frequently, iTunes, Google Play, or Amazon—and then asks for the gift card number and PIN on the back of the card. Those numbers let the scammer immediately get the money you loaded onto the card. And once that's done, the scammer and your money are gone, usually without a trace.
Encourage congregants to closely evaluate emails that appear to come from a church leader by carefully looking for some typical warning signs. "For example, the email address isn't the one normally used by the church, and the service provider is different, too. The message may begin with a simple 'Hi,' but doesn't include a recipient's name. There also may be spelling errors, including the pastor's name," says the FTC.
Read the FTC's full warning. Also check out "Fraudulent Email Scheme Costs One Parish $1.75 Million" that covers another scam and also offers tips for recognizing bogus and potentially costly emails.
This content is designed to provide accurate and authoritative information in regard to the subject matter covered. It is sold with the understanding that the publisher is not engaged in rendering legal, accounting, or other professional service. If legal advice or other expert assistance is required, the services of a competent professional person should be sought. "From a Declaration of Principles jointly adopted by a Committee of the American Bar Association and a Committee of Publishers and Associations." Due to the nature of the U.S. legal system, laws and regulations constantly change. The editors encourage readers to carefully search the site for all content related to the topic of interest and consult qualified local counsel to verify the status of specific statutes, laws, regulations, and precedential court holdings.
Like This Article?
If you enjoyed reading this article, get more like it. Become a Church Law & Tax subscriber today.