Use the following checklist to gauge how your church is doing at protecting data.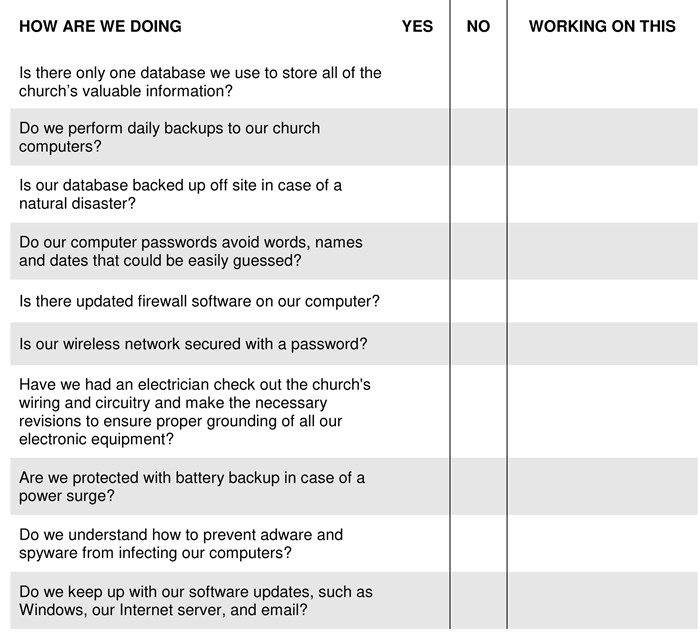 Computers are absolutely vital to help keep a church running, but they are also vulnerable. Keep your church records and data safe with the right precautions and software. We've compiled the following simple tips to help you secure your valuable information.
Download a PDF version of this checklist.
Strategic Plans
One database is enough. If you're using multiple databases to store information, the more you'll need to protect. Try to consolidate your data so you can better secure it.
Guessable passwords. Are your passwords guessable? Avoid using words, names, or numbers that could be easily guessed by an outsider. Also, never share passwords with your coworkers.
Perform regular backups. Backing up your computers daily, even hourly will save you time in the future if there's a power surge. Taking your vital records and data to an off-site location also gives you a safety if a natural disaster occurs.
Software Prevention
Suspicious activity. Has your Internet service been acting strangely? If new homepages, toolbars, or unwanted ads are continually appearing on your browser, update your security software immediately.
Don't be fooled. Adware and spyware are softwares want to trick you into installing their software onto your computer. Never agree to install software before you know what it is.
Update security patches. Continually update security patches on your Windows, Internet server, and email. Sometimes these programs provide safety features to keep malicious software off of your computer.
The antivirus. If your church does not already own antivirus software, purchase it. If you own an older version of this software, you may need to update it since older versions do not protect against adware and spyware.
This content is designed to provide accurate and authoritative information in regard to the subject matter covered. It is sold with the understanding that the publisher is not engaged in rendering legal, accounting, or other professional service. If legal advice or other expert assistance is required, the services of a competent professional person should be sought. "From a Declaration of Principles jointly adopted by a Committee of the American Bar Association and a Committee of Publishers and Associations." Due to the nature of the U.S. legal system, laws and regulations constantly change. The editors encourage readers to carefully search the site for all content related to the topic of interest and consult qualified local counsel to verify the status of specific statutes, laws, regulations, and precedential court holdings.
Like This Article?
If you enjoyed reading this article, get more like it. Become a Church Law & Tax subscriber today.