Well-developed policies regarding the use of church facilities create a clear understanding between church leaders and users of the facilities—critical to good relationships with members and non-members alike. They also help to limit the church's exposure to property damage and injury claims, should something go wrong in the use of the facilities. How clear are your facilities-use policies in these areas? Use this checklist to find out.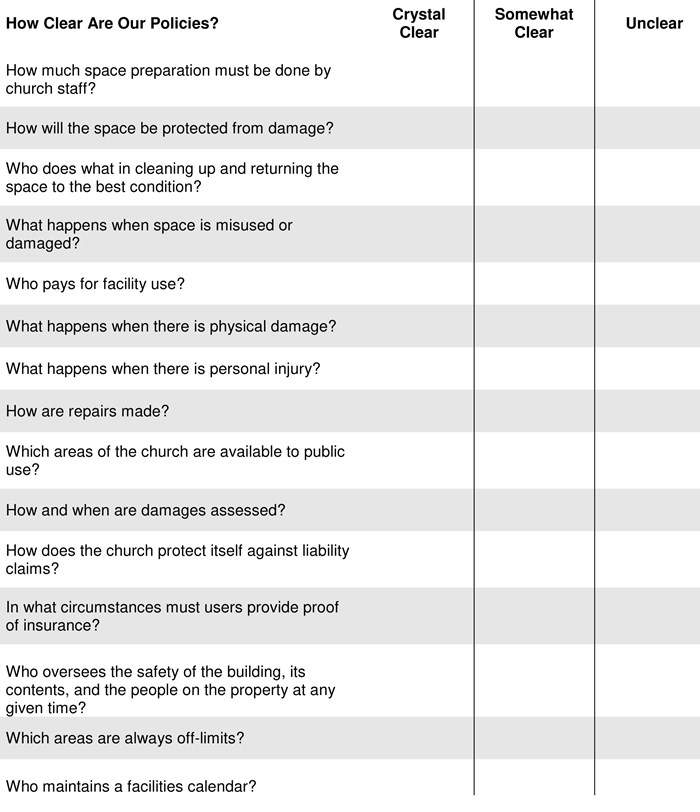 Download a PDF version of this checklist.
Allowing others to use empty church facilities seems like an easy call—especially when you can recoup some of the cost of maintaining the facilities. It raises issues of security, damages, and liability that you need to consider carefully before you open your doors. We can help you build a facility use policy with our simple tips.
Building Your Policy
Know the tax implications. Consider federal and state tax laws when building your policy. The type of organization requesting use and the nature of the event both play into whether you can lend your facilities and whether you can charge fees without jeopardizing your tax-exempt status.
Establish a fee schedule. Determine under what conditions you will charge for building use. Create a fee schedule that clearly defines the fees for different rooms and different activities.
Avoid scheduling conflicts. Limit conflicts over scheduling priorities by defining your reservation policy. Decide whether ministry events and congregant requests have preferential scheduling over outside party requests and community events.
Sweat the small stuff. Include details in your building use policy on what activities and decorations are allowed, whether furniture can be moved, and what to do with dirty dishes. If you don't address an item in your policy, you can't hold people accountable for it.
Day-to-Day Management
Who's in charge? Appoint a facilities manager to track building scheduling and use. The manager should approve building request forms and maintain a centralized scheduling calendar.
Sign here. Require that a building use agreement be executed for events. The responsible party should sign the agreement. Consider a separate agreement for large events like weddings.
Do damage control. Complete a thorough post-event inspection of the room. Look for damage and evidence of policy violations. Determine if any building use policies need to be revised or if any damage claims should be filed.
This content is designed to provide accurate and authoritative information in regard to the subject matter covered. It is sold with the understanding that the publisher is not engaged in rendering legal, accounting, or other professional service. If legal advice or other expert assistance is required, the services of a competent professional person should be sought. "From a Declaration of Principles jointly adopted by a Committee of the American Bar Association and a Committee of Publishers and Associations." Due to the nature of the U.S. legal system, laws and regulations constantly change. The editors encourage readers to carefully search the site for all content related to the topic of interest and consult qualified local counsel to verify the status of specific statutes, laws, regulations, and precedential court holdings.
Like This Article?
If you enjoyed reading this article, get more like it. Become a Church Law & Tax subscriber today.