The Internal Revenue Service (IRS) is again warning employers, including churches, to exercise caution if they're contacted by a third party regarding the Employee Retention Credit (ERC).
The ERC is legitimate. However, third parties are using aggressive tactics to try and entice employers to seek it, and sometimes, the third parties aren't carefully evaluating an employer's eligibility, putting the employer in jeopardy with the IRS.
In other instances, the third parties have fraudulent intentions altogether.
Church Law & Tax began warning churches about illegitimate or fraudulent activities surrounding the ERC in February.
---
A bit of background reading:
If certain criteria are met, congregations, nonprofits, and schools are potentially eligible to receive thousands of dollars.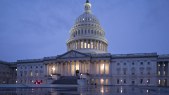 How to navigate the government's $2.2 trillion stimulus plan responding to COVID-19's economic fallout.
---
Many churches may be eligible for the ERC, a provision providing employers relief due to hardships experienced in the early days of the COVID-19 pandemic. Specific criteria must be met, however.
"The aggressive marketing of the Employee Retention Credit continues preying on innocent businesses and others," said IRS Commissioner Danny Werfel, in the agency's latest alert. "Aggressive promoters present wildly misleading claims about this credit. They can pocket handsome fees while leaving those claiming the credit at risk of having the claims denied or facing scenarios where they need to repay the credit."
---
---
The IRS provided a list of "warning signs" that employers should look for when dealing with a third party about the ERC, including:
Unsolicited calls or advertisements mentioning an "easy application process."
Statements that the promoter or company can determine ERC eligibility within minutes.
Large upfront fees to claim the credit.
Fees based on a percentage of the refund amount claimed. This is a similar warning sign for everyday taxpayers, who should always avoid a tax preparer basing their fee on the size of the refund.
Aggressive claims from the promoter that the business receiving the solicitation qualifies before any discussion of the group's tax situation. The ERC is a complex credit that requires careful review before applying.
Wildly aggressive suggestions from marketers urging businesses to submit the claim because there is nothing to lose. Those improperly receiving the credit could have to repay the credit—along with substantial interest and penalties.
"These promoters may lie about eligibility requirements," the IRS added. "In addition, those using these companies could be at risk of someone using the credit as a ploy to steal the taxpayer's identity or take a cut of the taxpayer's improperly claimed credit."