Two-thirds of self-identified church leaders say giving to their churches has dropped significantly since the COVID-19 (coronavirus) pandemic became widespread nationwide in March—with sizable numbers reporting sharp declines of 50 percent or more.
The results come from the State of the Plate, a nationwide constituency poll promoted April 8-20, 2020, by Church Law & Tax and several other church-serving organizations. The online poll did not use scientific methodology, but instead attempted to capture an immediate snapshot revealing how the fallout from the outbreak—and the public-gathering restrictions implemented to try and slow it—have affected congregations.
Questions pertaining to church finances and decision-making received answers from 1,091 individuals representing primarily American Protestant churches. When asked how the shutdown affected giving, about 64 percent reported declines, 27 percent said giving was stable, and 8 percent said giving increased.
Among those indicating decreases:
17 percent said giving was down 10 percent or more;
17 percent said giving was down 20 percent or more;
13 percent said giving was down 30 percent or more;
8 percent said giving was down 50 percent or more; and
9 percent said giving was down 75 percent or more.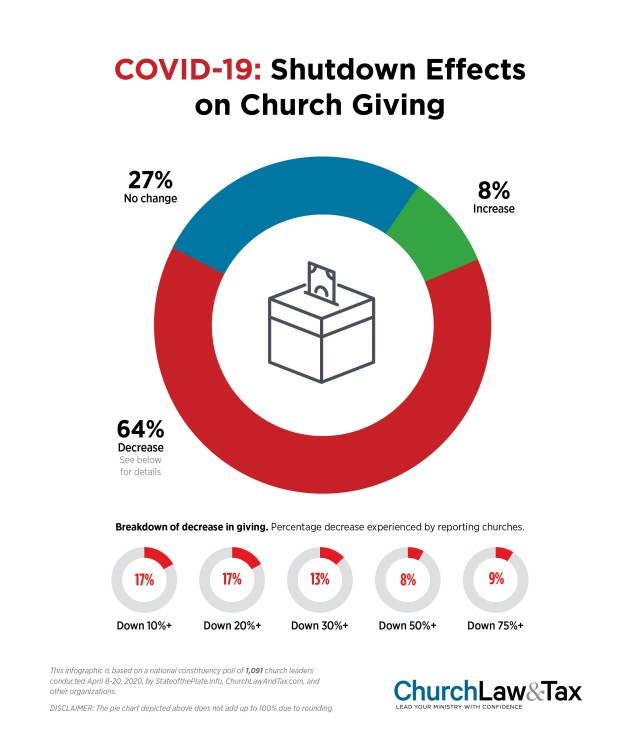 The declines are "pretty steep," said Brian Kluth, State of the Plate's founder. When compared to a similar poll conducted in 2010 in the wake of the so-called Great Recession, "this is a much deeper, broader, and immediate fall-off-the-cliff experience," stressed Kluth.
Churches polled ten years ago split into thirds between decreases, increases, and stability. Even still, the drop-off at that time was "the worst we had seen churches experience" in decades—and perhaps ever, Kluth said. That downturn was fueled primarily by unemployment and stagnated wages.
Unemployment is rapidly becoming a major factor with the current crisis, further compounded by congregations' continued inabilities to meet physically together.
"The ripple effects throughout the economy are going to be deep and long term," Kluth said. "The economic aftershocks will continue through the summer and into the fall. There will be a significant portion of churches that will have financial challenges. You're going to see churches having to make some hard decisions."
Some "better positioned" than others
David King, the director of the Lake Institute on Faith and Giving, said certain congregations are set up better to weather the pandemic. Based on the institute's comprehensive study of congregational finances, conducted between 2014 and 2017, King said 61 percent of congregations have at least three months of operational expenses available to cover personnel and other operational costs. Additionally, many congregations are set up to handle electronic giving, and those that have done so typically report higher overall levels of giving.
With the current crisis, this suggests a majority of churches may have a greater ability to ride out stay-at-home directives and public-gathering restrictions, assuming those measures don't last too far into the summer.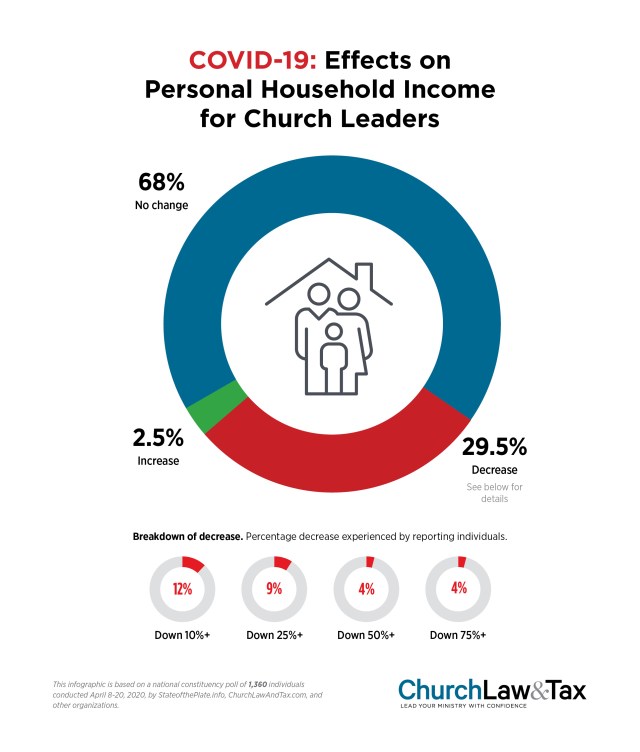 King concedes larger congregations in urban and suburban settings are likelier better positioned to hold up than small, rural churches, though. In particular, the latter tend to be less adjusted to technological tools for online streaming, much less online giving. "Seventy-eight percent of all giving comes through worship services on any given weekend. If there's not a way to engage that giving, and encourage it through online formats or encourage people just to mail in checks, then congregations will struggle," he said. "There's a divide there between different types of congregations that are more equipped and ready for this."
A new survey report released on April 21, 2020, by Exponential, Leadership Network, and the Billy Graham Center's Send Institute confirms as much. Of the 1,937 respondents, most of whom represent larger-sized congregations, nearly two-thirds again report giving is down, but the size of the group indicating decreases of 50 percent or more is smaller (11 percent overall).
Update. In an April 22, 2020, report released by CPA firm Capin Crouse, it says 25 percent of churches it surveyed said there has been "no impact" on giving due to COVID-19, while 19 percent reported increased giving, and 56 percent reported decreased giving. Among those reporting decreases, 20 percent said their giving was down by 20 percent or more. The report does not disclose the number of churches that responded to the survey. Separately, CapinCrouse's Church Financial Health Index, which shows real-time data regarding churches it serves, reports the average number of days of operating cash and investments on hand to cover expenses is 98 days.
The State of the Plate poll also showed some promising signs regarding online formats, and that may help smaller congregations stabilize their giving in the weeks to come, King added. Nearly 47 percent said they're attracting anywhere from two to five times the number of online viewers than normal attendees. Many indicated greater investment in online giving platforms, with some signing up for the first time.
Responsive measures
The new poll revealed numerous other maneuvers many churches have taken throughout the past six weeks. The clear top move was to continue paying full salaries and benefits of pastors and staff members. Closing facilities and adjusting building thermostats placed second, followed by the postponement of major projects or purchases. Applying for financial help from available state and federal government programs, including the recently enacted CARES Act's Paycheck Protection Program (PPP), ranked fourth.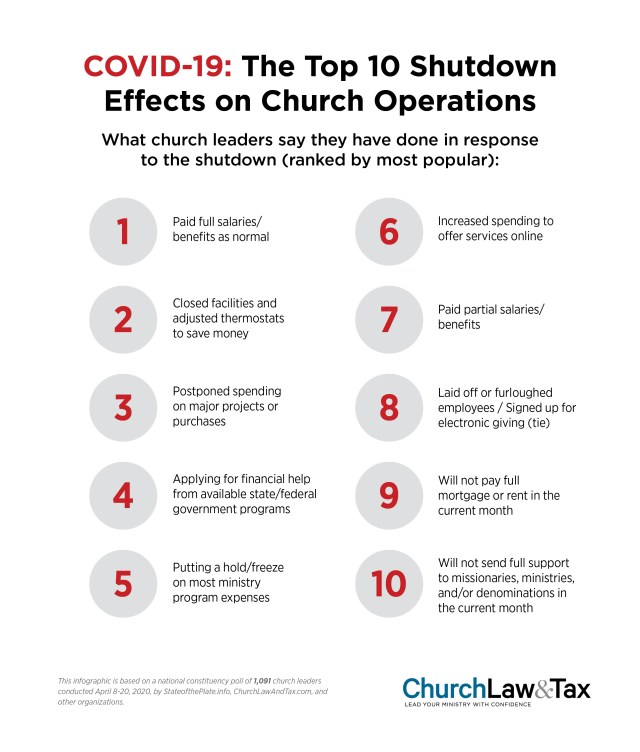 Those churches that receive a PPP loan, which has the potential to convert into a nontaxable grant, will get "breathing space for a couple of months," Kluth added. With economic conditions likely to remain challenging, though, many congregations will need to contemplate further action longer term.
"The budget is going to get hammered," he said. "The budget a church had in January is not going to exist in August. It's just gone away. They're going to have to come up with a new budget."
The average annual church budget is $125,000, and half of the typical budget is spent on personnel. Kluth, whose work includes helping the National Association of Evangelicals with its ongoing Bless Your Pastor campaign to assist pastors facing financial challenges, said the initiative will ramp up publicity again soon to help churches find additional ways to bless pastors and staff members beyond just money.
Budgets will need to adjust, King agreed. Past recessions have shown that any lost donations often are not recouped later. There's also the unprecedented nature of this moment that makes current and future giving difficult to predict. "Typically, giving to religion and congregations does much better in recessions than other types of charitable giving," King added. "But this is unique and different in many ways. Prohibiting the ability to meet together as a community is new. We've never had to do this before."
Looking ahead
Beyond cutting expenses, some churches may need to take more drastic measures, such as contemplating a shift to a house church model, merging with another struggling congregation, folding into a larger church as a satellite location, or closing, Kluth said. Some will make enough cuts to stay afloat until greater economic stability returns. And some will thrive, even under the harsher conditions, he added.
"It's understanding what the new normal is, and then having to be very creative. Scarcity leads to clarity. Clarity leads to priorities. Priorities leads to creativity," Kluth said.
King echoed Kluth's optimism about the ways churches will weather through the pandemic. King noted many congregations have turned more attention toward meeting individual needs, whether inside the church or in their surrounding communities.
That some churches won't make it after the crisis subsides is a strong possibility. But new opportunities for ministry will emerge, too, King added.
"Some congregations will have to shutter their doors. Others will weather the storm in smaller versions of themselves. Some will be fine. And some will even grow," he said. "Congregations will continue to be resilient and innovative and will find ways to meet the challenge ahead, even though it will take some hard decisions and a lot more creativity about new ways to do church into the future."