With more technologies available in the information age, the number of choices to sort through can feel overwhelming. For many church leaders, the same likely is true—for instance, one list available online shows 180 different options for church management software alone.
What makes these decisions even more complicated is how the term "technology" now refers to many different kinds of technologies. In the pre-Internet days, "technology" in churches mostly referred to audio/visual and lighting. Now, as the Internet and personal computers have become mainstream, "technology" also refers to social media, websites, mobile applications, and computer hardware and software, all spanning office uses and personal uses.
With so many options available for so many things, here are three critical factors to consider. These can give your church leaders practical principles for evaluating and choosing whether or not your church should buy a new and innovative technology. Context and personnel are important factors, as is a thorough evaluation of the products themselves. Included is a grid you can use for such an evaluation to determine which products hold the best potential for your church.
1. Knowing Your Context
This is the most important factor in a church's decision-making about technologies. Just because other churches use popular technologies doesn't mean your church should. Here are essential aspects of your church context to consider:
Your church's vision and mission. While every church is about the Great Commission and Great Commandment, each church goes about it in different ways, with different groups of people, and thus, different technologies. A liturgical church probably uses fewer technologies than a church reaching and ministering to the online generation.
Key question:Does the technology solution align with your church's vision and mission?
Goals and objectives. Part of organizational planning includes setting goals and objectives. These are useful for deciding what resources to use for reaching specific results. Certain technologies can get you the desired results more efficiently and effectively. And different churches will use the same technology in different ways.
Key question:How does the technology solution support your church's specific goals and objectives?
People in your church and community. The audience your church ministers to is a significant consideration regarding whether a particular technology will engage or distract your people. Stereotypically, an older demographic might use personal technology less than a younger demographic, but that may not be the case in your particular church. A church's culture, community, communications, and technologies are all inter-woven and connected. For example, teaching from a tablet computer like an iPad would be engaging to a tech-savvy audience while it would probably offend some traditional people who prefer their pastor to use a leather-bound Bible. The pastor at Calvary of Albuquerque uses a printed Bible during a traditional worship service and then preaches from an iPad during the church's contemporary worship service.
Key question:How does the technology solution strengthen your church's community relationships and meet people where they're at?
Openness to new technology. Corporately and individually, people have different levels of readiness to use a new technology. A group of people will typically adopt a new technology along a curve based on the diffusion of innovations theory developed by Everett Rogers. Rogers classified individuals into five groups on a graph: innovators, early adopters, early majority, late majority, and laggards. Insert a graph like the one. This graph shouldn't be used as a value judgment; it helps to discern whether a new technology is appropriate for your church and how much effort it may take to incorporate a new technology. While your church may have individuals who fall across the entire spectrum of affinity to technology, you' want to be considerate of the church as a whole when deciding on new technology.
Key question:How ready is your church to adopt the technology solution?
2. Knowing the Technology Options
There are many technology solutions, both custom and off-the-shelf, from different vendors. Knowing your context is an initial filter to those many options. Knowing the options will filter them even more:
What technology are you evaluating? Here are the general categories:
Sanctuary tech: sound, light, video, web, mobile, musical instruments, recording/ broadcasting;
Office tech: Hardware: PCs, Internet, client/server, backup, land-area network, telephone; Software: operating system (OS), office software (word processor, presentation, spreadsheet), church management software (ChMS), communications, reporting, publishing, scheduling, registration/event management, finances;
Production tech: Tech arts, video editor, audio editor, multimedia production, image editor;
Interactive tech: social media, mobile phone, Twitter, Facebook, website, e-mail newsletter, podcast, media, texting, and collaboration through things like file sharing and video conferencing.
What level of technology maturity is appropriate? Since technology constantly evolves and matures, usually with declining costs over time, one major factor is deciding on when to adopt a new technology. Technological maturity can be broken down into five distinct stages:
Bleeding edge: A high-potential technology that hasn't yet demonstrated its value or become a consensus winner among competing options. There is a high level of risk to adopt. Example: holographic imaging;
Leading edge: A technology with proven value in the marketplace, but it's still new enough that challenges come with implementing or supporting it. Example: online church;
State of the art: A technology that is the consensus winner, commonly considered a popular mainstream solution. Example: wireless microphones;
Dated: A technology that still may be useful, but a leading-edge technology is available to replace it. Example: wired microphones;
Obsolete: A technology superseded by state-of-the-art technology. Example: cassette tapes.
How do you evaluate the different technology solutions? Most technology solutions have multiple companies and vendors that provide solutions with a different set of features. This grid is a good way to sort through the various factors. I'll present the grid and then explain how it can be used: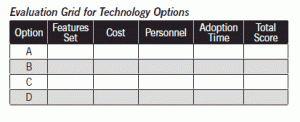 How to use the evaluation grid:
List your options: Find the technology options by researching them in any of these ways:
• Using an Internet search engine;
• Connecting with online communities on blogs, Facebook, Twitter, or message boards;
• Browsing this buyer's guide;
• Checking with vendors;
• And contacting several churches of a similar size using similar technologies. Take a fellow church leader out for lunch or meet for coffee. There are others who have already done research and there are people using a technology that can give honest feedback. As you're researching technology options, filter them based on whether a solution fits your church context.
In the next four columns, put down a score from 1 (doesn't fit) to 10 (fits best) regarding whether a technology fits your church:
• For the Features Set score, you can break down the various features offered in the solution and match them against three lists of the features that your church requires: must-have features, nice-to-have features, and undesired features. Put a score in this column ranging from 1 (least matches to desired features) to 10 (most matches to desired features).
• For the Cost score, put a score down from 1 (most expensive) to 10 (cheapest) based on various aspects of cost: initial cost (fixed), recurring cost (subscription or license fees), maintenance cost, and support cost.
• For the Personnel score, put a score down from 1 (most costly) to 10 (least costly) indicating the manpower required for using, maintaining, and supporting the technology solution. Personnel should include staff and volunteers, as well as outsourced staff. Technology does not run itself and it's not a fixed cost. Technology requires people to use it and support it. Factor in the people resources needed for a specific technology solution.
• For the Adoption Time score, put a score down from 1 (slowest) to 10 (quickest) denoting how long it would take to launch and incorporate that technology solution. Factor in installation time, launch time, and training time.
Then, add the score for each row. The highest scores tend to indicate a better fit for your technology needs. This grid may oversimplify the process, and many other outside factors may affect what to consider in your evaluation. You may modify the grid by adding extra columns to factor in other things that are important to your church.
3. Involving the Right People
The right team of people can decide on the best new technologies for the church. The ideal team involves at least two key members in the process of due diligence: a church leader and a technical expert. Additionally, it will involve an end user (a staff member or volunteer who will use the technology on a regular basis). And, depending on the church's governance, it may involve someone from the pastoral staff, senior leadership team, or elder board—someone who can contribute to the decision-making because he (or she) knows the church's context best.
The technical expert (I use the label "tech steward"), whether staff or volunteer, should be someone who is able to sort through technical specifications and jargon and know what best fits the church's ability to receive, understand, and use the new technology. The technical expert doesn't need to know all about researching, installing, training, or supporting various technologies, but will coordinate and ensure that these important tasks get done.
In my conversations with church leaders, the collaboration between the church leader and the technical expert is crucial. A church leader without technical proficiency may be persuaded by an attractive ad and buy a new technology that doesn't fit the church, while a technical expert might choose a new technology that's too challenging for the church's staff and volunteer to use effectively. This relationship works well when the church leader can trust the recommendations of the technical expert while the technical expert humbly submits to the input and authority of the church leader.
After the Buy
Regularly schedule an evaluation once or twice a year to determine the benefits of the technology to your church's goals and objectives. Also, make certain someone stays informed of technological developments so that obsolete technologies get retired and new ones take their place in a timely fashion. Since these three aspects are constantly changing—context, technology, and people—technology buys are not a once-and-for-all project. Consider it more of a part of the process for doing ministry effectively.