Articles with a
are available only to members.
Become a Member
Keep your church safe, legal, and financially sound.
When you become a member you get instant online access to help your church:
Reduce potential legal liability
Manage finances and risks
Comply with IRS requirements
Can individuals who go on mission trips deduct their expenses?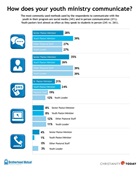 Infographic: How ministers and staff communicate with youth in their programs.
Judge's opinion may shed light on how Wisconsin housing allowance appeal may go.
One crisis management consultant offers tips for churches to avoid bankruptcy.
Specific rules dictate the tax treatment for pastors and donors.

Important considerations and guidelines your church should note before saying yes.