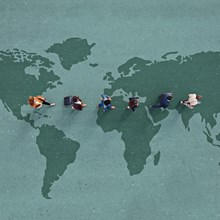 1. Let your congregation see where their money is going. "People love to give to something they can see," says Dan Crane, missions pastor at First Evangelical Free Church in Fullerton, California. Crane finds that supporting projects like wells, orphanages, and other tangible programs, and telling donors exactly which projects are supported, encourages continued giving.
2. Tailor missions investment to projects your community is passionate about. If no one in your church is interested in supporting a missions organization, consider something more development- and humanitarian-focused. "I try to find out what God wants our church to do, because there are so many needs," said Crane. "I spend a lot of time in prayer, thinking and talking and pondering."
3. Invest in relationships. "Key factors in giving are the role model of the senior pastor and a church's relational connection with teams around the world," says Tim Crouch, vice president of international ministries for the Christian & Missionary Alliance. Congregations who know the people their money supports, either from vision trips or visits from missionaries, are more likely to keep giving.
4. Diversify your investment. Some people might want to buy goats for a community in Rwanda; others might want to run to raise money for water. "We try to support a wide swath and a lot of different places," says Mark Wilson, senior pastor of Hayward Wesleyan Church in Hayward, Wisconsin. "We're hoping there will be something to connect with everybody in our faith promises."
For further insights into funding and administering your church's missions budget, see these articles:
This content is designed to provide accurate and authoritative information in regard to the subject matter covered. It is sold with the understanding that the publisher is not engaged in rendering legal, accounting, or other professional service. If legal advice or other expert assistance is required, the services of a competent professional person should be sought. "From a Declaration of Principles jointly adopted by a Committee of the American Bar Association and a Committee of Publishers and Associations." Due to the nature of the U.S. legal system, laws and regulations constantly change. The editors encourage readers to carefully search the site for all content related to the topic of interest and consult qualified local counsel to verify the status of specific statutes, laws, regulations, and precedential court holdings.
Like This Article?
If you enjoyed reading this article, get more like it. Become a Church Law & Tax subscriber today.