Use the following checklist to see if your church is well-equipped to respond if the unthinkable should happen.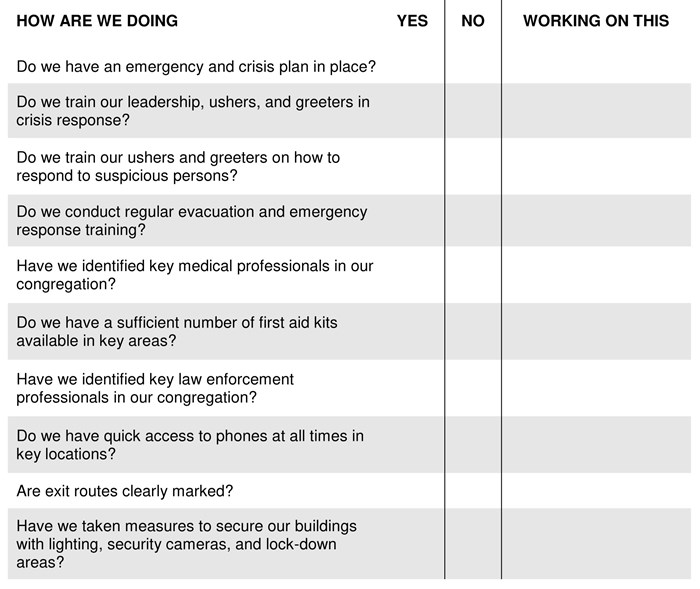 Download a PDF version of this checklist.
Not so long ago, believers were able to seek a quiet, solitary moment of worship in their church sanctuaries. No locked door, or armed guard, there was no prohibited entry. In many places, those opportunities to meet God in his house (without first being cleared for admittance) are gone.
The shooting of 14 people attending a youth rally at Wegdwood Baptist Church, in Fort Worth, Texas—the bomb that exploded at First Assembly of God in Danville, Illinois, injuring 35 people—the killing of a wife, son, and fellow-member by a congregant of New St. John Fellowship Baptist Church in Gonzales, Louisiana: these are only a few examples of the violence that has shattered the peace of sanctuaries across our nation.
Does this mean we should barricade the doors, shrinking back in fear of what could happen at our church? No! This is a time not only to exercise our trust in the Lord, but to fully equip ourselves with the right tools to protect our congregation.
This content is designed to provide accurate and authoritative information in regard to the subject matter covered. It is sold with the understanding that the publisher is not engaged in rendering legal, accounting, or other professional service. If legal advice or other expert assistance is required, the services of a competent professional person should be sought. "From a Declaration of Principles jointly adopted by a Committee of the American Bar Association and a Committee of Publishers and Associations." Due to the nature of the U.S. legal system, laws and regulations constantly change. The editors encourage readers to carefully search the site for all content related to the topic of interest and consult qualified local counsel to verify the status of specific statutes, laws, regulations, and precedential court holdings.
Like This Article?
If you enjoyed reading this article, get more like it. Become a Church Law & Tax subscriber today.