Use the following check list to gauge how your church is selecting insurance.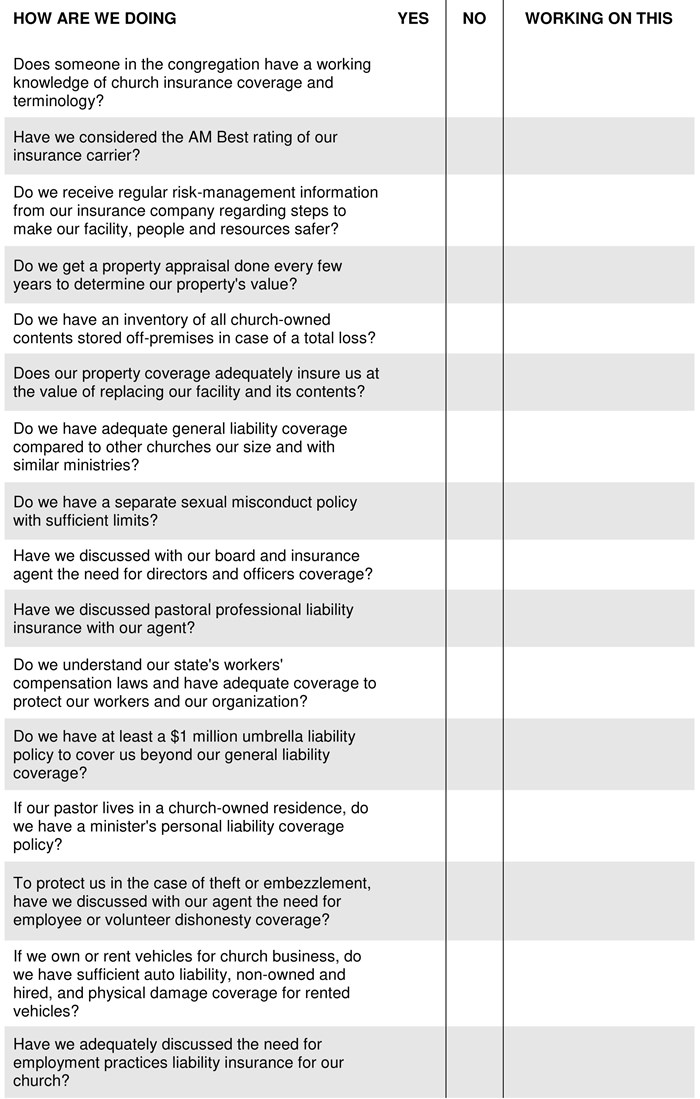 Download a PDF version of this checklist.
Why Learn about Insurance
True story: A pastor arrived at his church property only to witness the entire building burning in flames. It was a total loss. The following morning, as he wondered where the church would meet, and whether they had enough coverage to rebuild, he found out the church was underinsured. It would cost well over $1 million to rebuild what they had lost. But with only $700,000 in coverage, what were their options?
True story: After carefully performing reference and background checks, a church hired a part-time youth pastor. One year later, when he admitted to engaging in inappropriate behavior with students, he was arrested and charged. It was determined that there was prior knowledge of an incident, but no action had been taken. When the church was sued by parents, the church—without separate sexual misconduct coverage—quickly reached its general liability limit and was forced to find money from reserves, donations, and loans to pay the judgments.
Regardless of good intentions, inadequate church insurance can lead to significant and permanent losses. Some churches never recover. Though nearly every church has insurance coverage, many church leaders lack confidence in their understanding of their policies and the terminology associated with them.
So let me encourage you: You are not alone. Guidance is available, and you're already taking important steps in receiving it. As you gain a better understanding of church insurance, as well as your church's specific needs, you are making progress toward better safeguarding your ministry.
When it comes to church insurance, you must be informed. Get to know your insurance agent. And purchase only from a company that offers not only good prices, but good service, claims coverage, and specific knowledge of church insurance issues.
This content is designed to provide accurate and authoritative information in regard to the subject matter covered. It is sold with the understanding that the publisher is not engaged in rendering legal, accounting, or other professional service. If legal advice or other expert assistance is required, the services of a competent professional person should be sought. "From a Declaration of Principles jointly adopted by a Committee of the American Bar Association and a Committee of Publishers and Associations." Due to the nature of the U.S. legal system, laws and regulations constantly change. The editors encourage readers to carefully search the site for all content related to the topic of interest and consult qualified local counsel to verify the status of specific statutes, laws, regulations, and precedential court holdings.
Like This Article?
If you enjoyed reading this article, get more like it. Become a Church Law & Tax subscriber today.