Use the following checklist to gauge how your church is doing at creating a physically and financially safe fundraising event.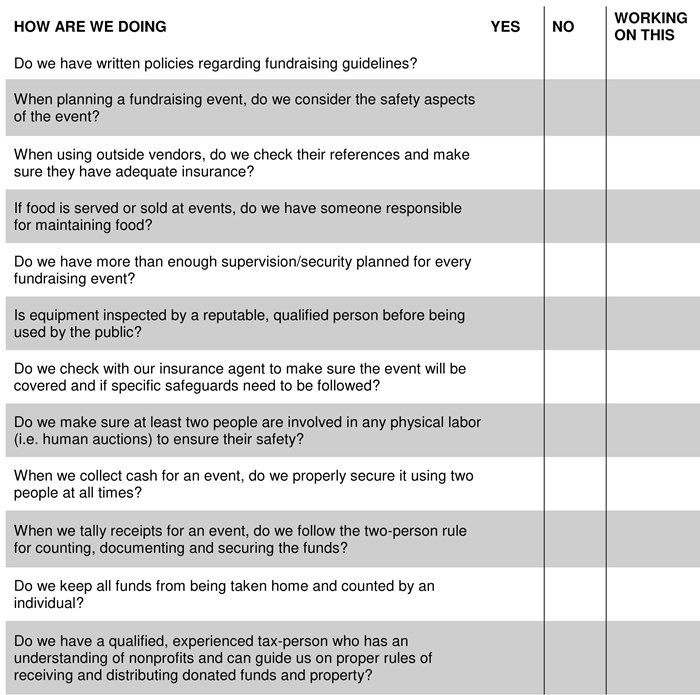 Before you launch your next fundraising effort, be sure to consider some aspects that may be putting your church and your members at risk. Use the simple tips below help ensure that your next fundraiser is safe.
Physical Safety
Outside Vendors. Most vendors are reputable. However, some may be inexperienced or unprofessional. Be sure to select vendors who have references. Utilize a written contract outlining their duties and get proof that they have adequate insurance.
Equipment. All equipment, whether owned by the church, rented, or brought in by a vendor should be safe. The only way to insure this is to have it inspected by a certified inspector. Further, all equipment should be run by a trained, responsible person who has safety in mind.
Food Sales. Anytime you are selling food, extra care should be provided. Adults should make sure the food is kept at the proper temperatures and safe to sell.
Financial Safety
Cash. Every effort should be made to secure the funds as soon as possible, even as it accumulates during the event. A responsible security team (of two or more) should take cash to a secure room, and lock it up until it can be counted. Once the money is secured, it should be handled in the same way as the church collection. Use two or more people to count the money, document it, and ensure its safe deposit. Never allow cash to be taken home or counted by just one person.
Tax-Deductible Donations. Some churches raise funds by asking people to donate items to the church. The church then sells or uses these donations, and the donor can receive a tax deduction. Take care to follow proper IRS guidelines for accepting donations and reporting them. Churches should consult a competent tax person who knows the law regarding nonprofits.
Download a PDF version of this checklist.
This content is designed to provide accurate and authoritative information in regard to the subject matter covered. It is sold with the understanding that the publisher is not engaged in rendering legal, accounting, or other professional service. If legal advice or other expert assistance is required, the services of a competent professional person should be sought. "From a Declaration of Principles jointly adopted by a Committee of the American Bar Association and a Committee of Publishers and Associations." Due to the nature of the U.S. legal system, laws and regulations constantly change. The editors encourage readers to carefully search the site for all content related to the topic of interest and consult qualified local counsel to verify the status of specific statutes, laws, regulations, and precedential court holdings.
Like This Article?
If you enjoyed reading this article, get more like it. Become a Church Law & Tax subscriber today.