Use the following checklist to gauge how your church is doing at screening.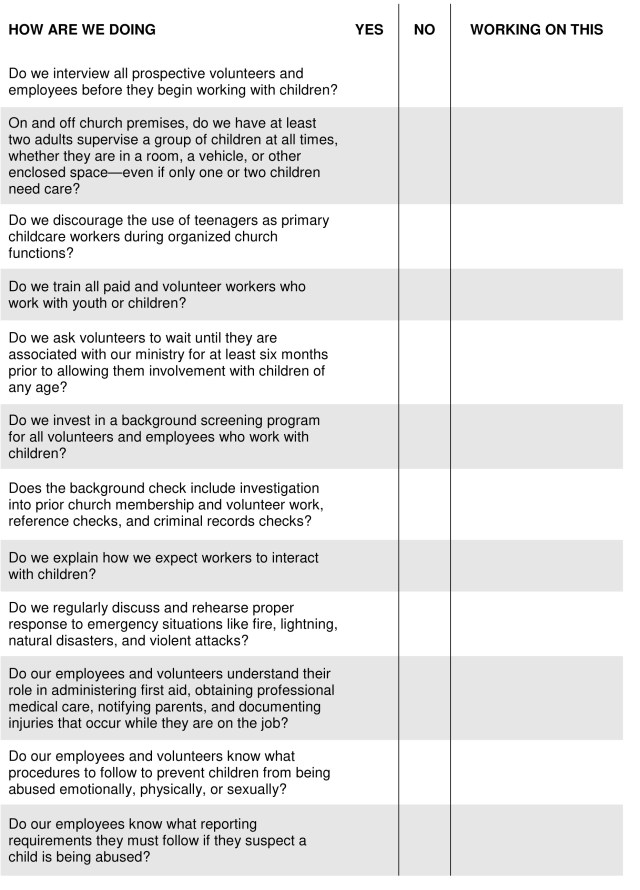 Download a PDF version of this checklist.
Carefully screening people before allowing them to work with children in your ministry costs little, but it can increase safety greatly. Here's why. Background screening can:
deter child predators from applying to work in your ministry, reducing the likelihood of child sexual assault.
demonstrate that your ministry has taken reasonable care to safeguard its members.
reduce your liability in court if you should accidentally hire someone who commits a crime.
help you learn if someone has been convicted of a crime in the past that may lead to future problems.
offer a glimpse into the candidate's past work performance and why he or she is seeking a new ministry position.
give you information about a person's character, skills, knowledge, and suitability for a particular position.
More than a criminal background check
Background screening and criminal background checks are similar terms that can be confused with one another. Background screening is far more comprehensive than running a person's name through a criminal records database.
How do you screen paid and volunteer workers?
A thorough background screen includes four components: written application, reference checks, personal interview, and criminal records inspection.
These components are the same for both paid and volunteer employees, although additional laws govern background screening for paid employment.
Because states often have additional laws employers must follow, you should strongly consider hiring a qualified agency to conduct criminal background checks on prospective employees.
Reference checks are vital
Criminal background checks are important, but reference checks are vital, says John Hein, corporate counsel for Brotherhood Mutual Insurance Company. "There's no substitute for a reference check," Hein says. "It's a good indicator of whether this person will be a good fit for your ministry."