Editor's Note: Managing motions during a church business meeting is essential to ensuring the meeting accomplishes its intended purposes. Continuing her look at effective business meetings through the hypothetical lens of Liz Jones, an experienced business administrator at First Church, Sarah E. Merkle explains how to plan, draft, and make a meeting motion.
This four-part series is offered in support of Merkle's "Mastering Meeting Basics."
---
Liz Jones spent months preparing the agenda for First Church's annual business meeting. As her work progressed, it became apparent that the facilities committee's report would suggest more potential work would be needed than just repaving the church's parking lot.
One motion—and possibly more—would likely come up for facilities-related needs.
Cindy Martinez, the facilities committee's chair, sent an email to Jones several weeks prior to the meeting warning her as much.
Martinez detailed the parking lot project. She also relayed desires from some individuals to repaint the children's ministry wing, as well as preliminary concerns from others about the church's aging HVAC system (though some contend the concerns are premature).
The primary tension point? Next year's proposed annual budget doesn't account for the expenses to do all three.
"We already know there will be differing opinions about which projects need to be addressed, and which should get priority," Martinez wrote to Jones. "At least a few also believe the church should borrow some money now and do all three projects, with the goal to have the loan paid off in two years."
Planning the motion
Working through Sarah E. Merkle's article on motions, Jones decides the smart approach will be to have Martinez present the facilities committee report, including the three possible projects. But Jones gets nervous about the ensuing discussion and how things might bog down in the meeting.
She again reaches out to Merkle with an email. Merkle replied soon after, reminding her she couldn't provide legal advice but could generally help.
"In general, it's smart to come to a meeting with a proposed motion drafted," Merkle wrote. "You don't want all the information presented about all the projects, say all three need to happen, and stop there. At that point, someone will just present a motion that isn't well-crafted."
Jones confers with the finance committee chair, Alex Armstrong, about how next year's annual budget is taking shape. He tells her a potentially reasonable budget amount for the developing projects based on current financial projections, pending bids for the projects.
Jones then proceeds to help Martinez craft a draft motion that reads as follows:
RESOLVED, that the Facilities Committee obtain bids to begin the following capital projects during the next fiscal year:
Repave the parking lot;
Replace the HVAC system;
Repaint the children's ministry wing; and,
that the Facilities Committee be authorized to proceed with these projects, provided they do not exceed a combined total cost of $200,000.
Making the motion
The annual business meeting day arrives and 300 voting members show up, more than enough to satisfy the quorum requirement for First Church's annual business meeting.
As planned, the agenda begins with the ministries, financial health, and facilities reports.
The ministries report includes exciting developments for First Church, such as big growth in its children's ministry and a new missions opportunity in Ecuador.
Armstrong's financial health report reads mostly positive, too. First Church's only debt is the loan it received to purchase its building and property from another church about seven years ago. Giving over the past year remained steady, a welcome development after years of local and national economic uncertainty.
Then it's Martinez's turn to provide her committee's report on the facilities. She references the packet of information sent out to members a couple of weeks before the meeting.
Martinez uses the PowerPoint that Jones helped create to provide descriptions and photos detailing the parking lot's rapid deterioration, which was already evident when First Church bought the property seven years ago. She also explains the children's ministry's growth, and the children's ministry director's desire to freshen things up. Then she discusses some of the HVAC system's recent problems, including an unexpected breakdown last winter that left the building colder than usual for worship one Sunday.
Martinez finishes and makes the motion that Jones helped her prepare. Since it comes from the committee, the motion doesn't require anyone to second it.
"Is there any discussion?" asks Terry Christensen, the church's board chairwoman.
Jones shifts uncomfortably in her first-row seat. This would be the first opportunity for the meeting to go off the rails.
Lively discussion
The discussion was as lively as Jones and Martinez anticipated. Thankfully they warned Christensen ahead of time so that presiding over it wouldn't surprise her.
Some members express immediate opposition to the repainting. "The wing doesn't look that bad, and the money should be used for the HVAC," an older man opines.
Another member jumps in: "I move we strike the children's ministry wing repainting from the motion."
"Is there a second to the amendment?" Christensen asks. Since the amendment didn't come from the committee, a second to this motion is needed. The older man seconds the motion.
"Is there discussion about the amendment?" Christensen asks.
A young mother raises her hand. "I know repainting may seem unnecessary. But we've heard about how the children's ministry has grown," she says. "Anyone who serves downstairs knows how dingy everything looks."
Other members speak up. Some support the repainting. Others oppose it. One suggests doing all three but borrowing money, which elicits a somewhat snarky response from a longtime member who boasts how the church has historically avoided debt beyond its mortgage. Eventually, a majority votes to adopt the amendment.
Discussion then resumes on the motion as amended. Nearly 20 minutes pass. Sensing it's time to move things along, a longtime member makes a motion to close debate that gets seconded and then approved by a two-thirds majority of the votes cast.
Now it's time to see if enough support exists to approve the motion as amended with the children's ministry project removed. Another voice vote must be done, but this time, only a majority is needed to approve it.
---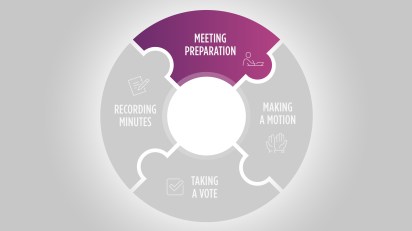 Preparation is key in holding an effective church meeting.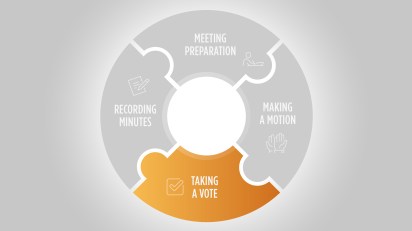 Holding an effective church meeting includes understanding the four basic types of votes, and knowing which one is best.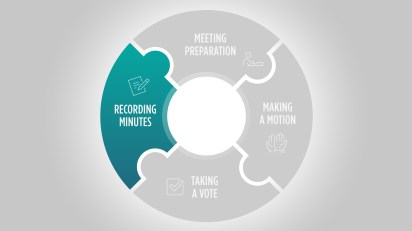 Holding an effective church meeting includes knowing who should be keeping minutes and how they should be kept.
---