Editor's Note: Minding meeting minutes is both an oft-misunderstood and under-appreciated part of a church business meeting. Continuing her look at effective business meetings through the hypothetical lens of Liz Jones, an experienced business administrator at First Church, Sarah E. Merkle shows the important roles that meeting minutes play.
This four-part series is offered in support of Merkle's "Mastering Meeting Basics."
---
Long before First Church's annual business meeting arrived, Liz Jones mapped out a plan for getting the meeting's minutes taken, too.
Before proceeding, though, she first needed to clear up some misconceptions about who should take minutes. Some assumed it would be the church secretary. Others assumed it should be Jones as the church business administrator.
Neither assumption was correct.
Instead, the responsibility of taking minutes falls to the church board's secretary.
Jones reached out to Tom Erickson, the board secretary, and scheduled a meeting ahead of time to go over his duties.
"I'm nervous about this task, to be honest," Erickson confided to Jones when they met. "I have a hard time capturing everything said in a conversation—there's so much to keep track of."
"Don't worry," Jones responded. "I'll help you understand exactly what we need. And remember, I'm attending the meeting, too. There should always be someone backing you up at a meeting, and I can do that for this meeting."
Recording what is done, not said
Jones then walked Erickson through the key tips for taking effective minutes.
"You're not recording the meeting. You're not transcribing the meeting," she explained. "You're recording what was done, not what was said."
Erickson nodded but looked slightly confused.
"But to record what was done, don't we need to know who said what—who supported what, who opposed what, that kind of thing?" he asked.
"No—that's a common mistake many church leaders make," Jones answered. "So much of what happens just needs to be a brief, general description. For instance, when Cindy Martinez gets up to give the facilities report, it doesn't have to be detailed. It should just say, 'The facilities chair gave a report on behalf of the facilities committee, including details on proposed projects for the parking lot, children's ministry wing, and HVAC system.' That's it."
Jones paused as Erickson jotted down some notes.
"Is there ever a time when specific details need to be included, though?" Erickson asked.
"Yes," Jones responded. "Mainly when votes are taken. You need to record the outcomes. If specific counts are made, you need to capture the votes for and the votes against."
Erickson scribbled down a couple more notes.
---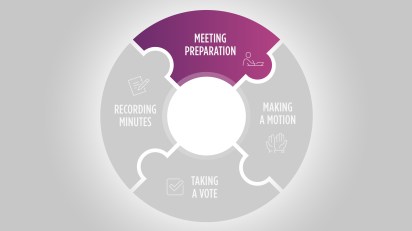 Preparation is key in holding an effective church meeting.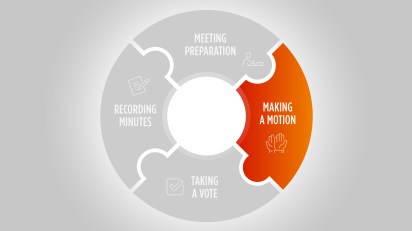 Knowing how to make—and manage—a motion is a crucial aspect of a successful church business meeting.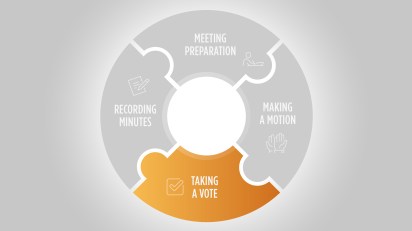 Holding an effective church meeting includes understanding the four basic types of votes, and knowing which one is best.
---
"So, this is really about just making sure ultimate decisions and directions are recorded for future reference—not a play-by-play," he said.
"Exactly," Jones responded. "And when the next business meeting comes, they're already prepared and ready to be presented for approval as a way to formally document those decisions and directions."
A closer look at the minutes
Erickson heeded Jones's advice. Because he wasn't focused on recording every word said, he found the task much more manageable—and capturing highlights and high-level details came more easily than he expected.
This especially proved true during the extensive discussion about the proposed facilities projects. Erickson knew he would have gotten flustered trying to note each perspective shared about support or opposition—and objectively representing the remarks would be next to impossible anyway.
After First Church's annual business meeting, he cleaned up the notes he typed during the meeting. To his credit, he needed Jones's backup notes for only one thing—the official vote count (243 to 13) in favor of the candidate for the new associate pastor role.
Erickson's draft minutes looked like this:
First Church
Annual Business Meeting
January 8, 2023
12:30 p.m.
Board Chair Terry Christensen called the annual business meeting of First Church to order at 12:35 p.m.. A quorum was present.
Agenda
By unanimous consent, the agenda was adopted as presented.
2022 Annual Business Meeting Minutes
By unanimous consent, the minutes of the January 9, 2022 annual business meeting were approved as distributed.
Ministry Update
Outreach Coordinator Joy Allman provided an update on the progress of various ministries of the church, noting that the children's ministry was experiencing significant growth and that the church leadership was exploring a new missions opportunity in Ecuador.
Finance Committee
Alex Armstrong, chair of the Finance Committee, provided an overview of the financial reports distributed to the membership, noting that member giving has been steady and that the building and property loan from 2016 remains the church's only outstanding debt.
Facilities Committee
Cindy Martinez, chair of the Facilities Committee, provided an update on the state of the Church's facilities. On behalf of the Committee, Ms. Martinez moved that the Facilities Committee obtain bids to begin the following capital projects during the next fiscal year: repave the parking lot, and replace the HVAC system; and, that the Facilities Committee be authorized to proceed with these projects, provided they do not exceed a combined total cost of $200,000. The motion was adopted as amended.
Associate Pastor Search Committee
Russ Moore, chair of the Associate Pastor Search Committee, provided an overview of the associate pastor search, including the Committee's process for identifying and vetting candidates. On behalf of the Committee, Mr. Moore moved that First Church call Karl Miller to be associate pastor of First Church. The motion was adopted, with 243 in favor and 13 opposed.
2023–2024 Budget
On behalf of the Finance Committee, Alex Armstrong moved that the 2023–2024 budget be adopted as distributed. The motion was adopted.
Adjourn
By unanimous consent, the meeting adjourned at 2:00 p.m.