Pastors Who Are Victims of Defamation
§ 4.02.02
---
Key point 4-02.02. Ministers are considered "public figures" and as a result they cannot be defamed unless the person making an otherwise defamatory remark did so with malice. In this context, malice means that the person making the defamatory remark either had actual knowledge that it was false or made it with a reckless disregard as to its truth or falsity.
Since a landmark Supreme Court ruling in 1964,[14] New York Times Co., v. Sullivan, 376 U.S. 254 (1964). it has become much more difficult for public figures to prove defamation. The courts reason that when people voluntarily thrust themselves into the public eye, they must expect to be the target of criticism. In addition to the other elements of defamation summarized in the preceding section, public figures must prove that defamatory statements were made with malice. Although few courts have addressed the question, it is likely that ministers will be deemed to be public figures. As a result, they will be required to show more than damage to their reputation to establish defamation. They also must demonstrate that the allegedly defamatory remark was made with malice. In this context malice means either actual knowledge that the remark was false or a reckless disregard as to its truth or falsity.
The courts have found that it is defamatory to publicly accuse a minister of willful deceit, a greatly confused mind, and the grossest type of moral misconduct;[15] Stewart v. Ging, 327 P.2d 333 (N.M. 1958). heresy and disturbing the peace of the church;[16] Creekmore v. Runnels, 224 S.W.2d 1007 (Mo. 1949). low moral character and scandalous and evil conduct that was so bad that it could not be described publicly;[17] Loeb v. Geronemus, 66 So.2d 241 (Fla. 1953). lying, hatred, "tyrancy," failure to pay debts, and satanic motives;[18] Murphy v. Harty, 393 P.2d 206 (Ore. 1964). adultery or fornication;[19] Haynes v. Robertson, 175 S.W. 290 (Mo. 1915). improper handling of church finances;[20] Curtis v. Argus Co., 156 N.Y.S. 813 (1916). ineptness in administrative ability;[21] Lathan v. Journal Company, 140 N.W.2d 417 (Wis. 1966). and being unable to keep his word for 24 hours.[22] Boling v. Clinton Cotton Mills, 161 S.E. 195 (S.C. 1931).
Similarly, the courts have held that it is defamatory to say of a minister that "there has not to our knowledge appeared in public within the memory of the present generation of North Carolinians a more ignorant man,"[23] Pentuff v. Park, 138 S.E. 616 (N.C. 1927). or that "I would not have anything to do with him or touch him with a ten foot pole."[24] Cole v. Millspaugh, 126 N.W. 626 (Minn. 1910). Some of these cases were decided before the Supreme Court's decision in 1964 requiring public figures to prove malice in order to sue for defamation. However, it now should be assumed that ministers will be deemed to be public figures and as a result they will have to prove malice as a precondition to winning a defamation suit.[25] See, e.g., Washington v. New York News, Inc., 322 N.Y.S.2d 896 (1971) (gossip column article stating that a minister had attended a nightclub performance at which one of his choir members was performing was a matter of public interest and was not made with malice, so minister's claim of defamation was denied).
Key point. It was much easier for ministers to prove defamation prior to 1964. Since 1964, "public figures" (including ministers) must prove malice in addition to the other elements of defamation. This often is very difficult to do. As a result, little weight should be given to cases decided before 1964 in which ministers were successful in proving defamation.
Case studies
A Florida court ruled that a pastor could sue two members of his church for defamation as a result of statements they made during a church business meeting falsely accusing him of purchasing a new Mercedes automobile with cash he had stolen from the church. The court rejected the members' claim that the First Amendment barred this litigation. It noted that the allegations of the lawsuit "reveal that this suit involves a neutral principle of tort law that does not involve excessive" entanglement in internal church matters or in the interpretation of religious doctrine or ecclesiastical law."

[26] LeGrande v. Emmanuel, 889 So.2d 991 (Fla. App. 2004).

A Georgia court ruled that a pastor could not sue a church officer for defamation. The chairman of the church's "Pastor Parish Relations Committee" sent a letter to a denominational agency accusing the pastor of refusing to follow denominational rules; failing to visit members who were ill or otherwise unable to attend church; failing to participate in the church's stewardship campaign; inappropriate behavior; and showing up just before the start of worship services. The chairman also allegedly informed another church member that the pastor was improperly using a church provided cell phone. The pastor sued the chairman for libel and slander, claiming that the publication of these "false statements" subjected him to "humiliation, ridicule, contempt, and emotional distress and caused his ministry as pastor to suffer suspicion." The court, in dismissing the pastor's defamation claim, noted that "civil courts have no jurisdiction to inquire into and to control the acts of the governing authority of a religious organization undertaken with reference to its internal affairs." The pastor insisted that the courts can address defamation claims against church members who accuse pastors of criminal acts. Even if this were true, the court concluded, it would not be relevant in this case since none of the allegedly defamatory statements involved accusations of criminal conduct.

[27] Horne v. Andrews, 589 S.E.2d 719 (Ga. App. 2003).

A Louisiana court ruled that a pastor could sue a former employee for defaming him by spreading false allegations of sexual misconduct.

[28] Steed v. St. Paul's United Methodist Church, 728 So.2d 931 (La. App. 1999).

The court noted that "the record amply supports the finding that [the defendant's] words were defamatory. [The pastor's] reputation was diminished to the point that he was transferred from [his church] and in fact relocated in the southeast portion of the state, an extraordinary move necessary to distance him from the scandal.
The New Mexico Supreme Court ruled that defamation requires proof of actual injury to reputation, and that injury to reputation will not be presumed even in cases of false accusations of pedophilia, and as a result a pastor who was falsely accused of pedophilia could not sue the perpetrators for defamation without proof of actual damage to his reputation.

[29] Smith v. Durden, 276 P.3d 943 (N.M. 2012).
Ministers who fail to prove one or more of the elements of defamation will fail to recover any damages in court. For example, a statement, no matter how derogatory, cannot be defamatory if it does not injure the reputation of a minister, if it is not publicized to others, or if it is true.
The courts generally have ruled that the "ministerial exception" prevents them from resolving defamation claims brought by ministers as a result of statements arising in the context of their discipline or removal.[30] See generally § 2-04.1, supra.
Dismissed church members also have had difficulty persuading civil courts to resolve their claims of defamation. This issue is addressed in chapter 6. Some disciplined ministers have sued their denomination for defamation as a result of statements published in denominational publications concerning the discipline. These cases are addressed in chapter 10.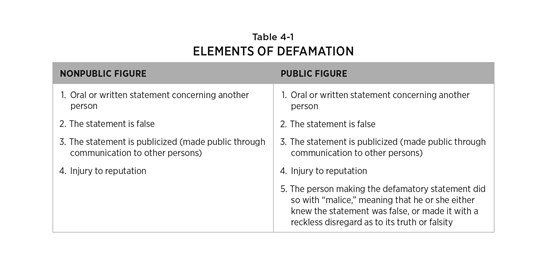 Table of Contents
This content is designed to provide accurate and authoritative information in regard to the subject matter covered. It is sold with the understanding that the publisher is not engaged in rendering legal, accounting, or other professional service. If legal advice or other expert assistance is required, the services of a competent professional person should be sought. "From a Declaration of Principles jointly adopted by a Committee of the American Bar Association and a Committee of Publishers and Associations." Due to the nature of the U.S. legal system, laws and regulations constantly change. The editors encourage readers to carefully search the site for all content related to the topic of interest and consult qualified local counsel to verify the status of specific statutes, laws, regulations, and precedential court holdings.