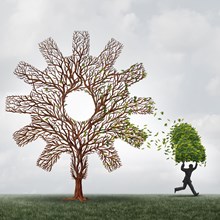 Image: Getty
A nationwide survey of more than 700 church leaders conducted by Church Law & Tax showed that nearly one-third have served in congregations that suffered from some form of financial misconduct. Half occurred within just the past 10 years.
Those victimized by some type of fraud said their congregations didn't utilize internal controls and other precautions necessary to prevent misconduct, often because there was a belief such misconduct "couldn't happen to us."
Below is a collection of articles, webinars, and training designed to increase your church's awareness of how financial misconduct happens, red flags to watch for, ways to prevent malfeasance, and steps to take when suspected or actual fraud arises.
May this collection help your church wisely steward its resources.
This content is designed to provide accurate and authoritative information in regard to the subject matter covered. It is sold with the understanding that the publisher is not engaged in rendering legal, accounting, or other professional service. If legal advice or other expert assistance is required, the services of a competent professional person should be sought. "From a Declaration of Principles jointly adopted by a Committee of the American Bar Association and a Committee of Publishers and Associations." Due to the nature of the U.S. legal system, laws and regulations constantly change. The editors encourage readers to carefully search the site for all content related to the topic of interest and consult qualified local counsel to verify the status of specific statutes, laws, regulations, and precedential court holdings.
Like This Article?
If you enjoyed reading this article, get more like it. Become a Church Law & Tax subscriber today.